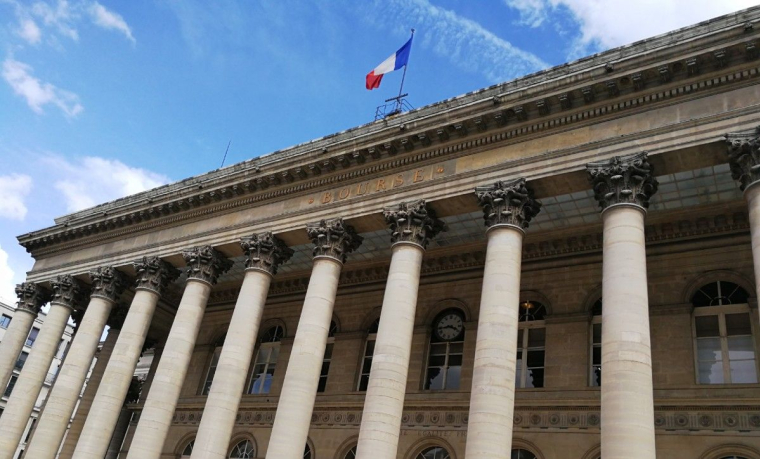 The Palais Brongniart, former headquarters of the Paris Stock Exchange. (photo credit: / L. Grassin)
(CercleFinance.com) – The Paris stock market is expected to fall further Monday morning, amid rising bond yields fueled by monetary policy tightening by major central banks.
At around 8:15 am, the 'future' contract – delivery in May – on the CAC 40 index fell 58.5 points to 6175 points, heralding the start of the day in negative territory.
The Paris market had closed Friday's session with a loss of 1.7% to 6258 points, marking a fourth session of decline during the week, resulting in a weekly decline of nearly 4.5%.
Equities continue to lose ground in a context of accelerated rise in real interest rates.
The yield on 10-year US Treasuries, whose surge has contributed to the stock market correction since the start of the year, climbed to 3.12% on Friday, bringing it closer to more than 10-year highs.
Fears of an acceleration in monetary tightening were fueled last week by the announcement of a 50 basis point hike in Fed policy rates, the first since 2000.
The rise in long-term interest rates is reviving fears of an increase in corporate financing costs and thus of a slowdown in economic growth.
This fear of growth has weakened already feverish market sentiment, especially after Xi Jinping reaffirmed his commitment to his policy of 'zero Covid in China', explains someone at Liberum.
Despite better-than-expected US jobs statistics, Wall Street ended Friday's session in the red, with the S&P 500 posting a fifth consecutive week of declines.
On the corporate side, the earnings season is coming to an end as 90% of publicly traded US companies and 75% of their European counterparts have released their quarterly earnings.
Groups such as Bayer, Disney, Siemens, Allianz, Telefonica or Deutsche Telekom have yet to present their accounts this week.
In terms of statistics, investors will want to pay attention tomorrow to the release of the ZEW economic sentiment index in Germany and then the consumer price index (CPI) in Germany scheduled for Wednesday.
The weekend, in turn, should provide some valuable clues as to the evolution of inflation on both sides of the Atlantic.
Wednesday's speech by ECB President Christine Lagarde at a conference in Ljubljana could provide more information about the possibility of a first rate hike in July from the European Central Bank.