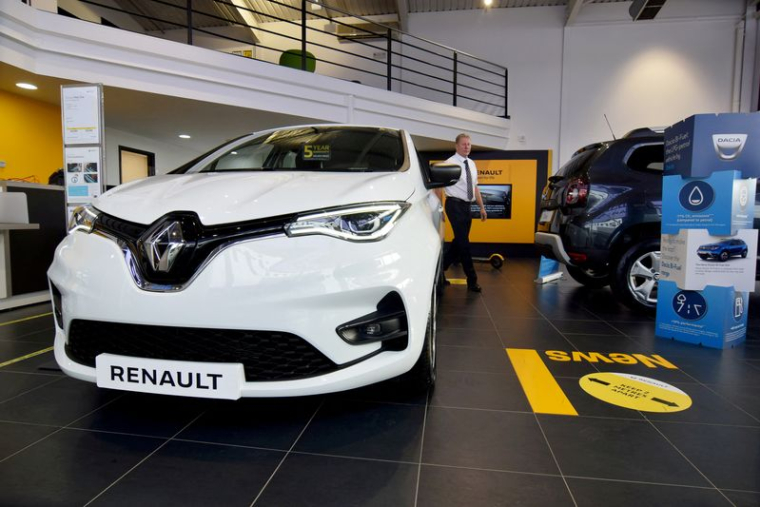 RENAULT GIVES THREE MONTHS TO MOVE WITH THE "AMPIRE" PROJECT ACCORDING TO SOURCES
by Gilles Guillaume
PARIS (Reuters) – Renault does not want the Russian file to delay its plan to split between its electrical and thermal activities and the general manager plans to prepare a first major progress report internally in July on the project called "Ampère", three sources familiar with the case told Reuters.
The diamond group, which recovered its first profit in three years last year, was suddenly forced to lower its annual targets due to a EUR 2.3 billion provision – for Renault Groupe and RCI Banque – in connection with the cessation of its activities in Russia in the aftermath of the war in Ukraine.
"Despite the Russian unknown, Luca de Meo wants to take swift action on both entities," one of the sources told Reuters.
Several working groups, supported by consultants, are actively working to establish two separate legal structures – codenamed "Ampere" for electrical assets and "Horse" (a nod to the traditional unit of horsepower-steam) for thermal and hybrid assets, added two of the sources.
Renault declined to comment.
The electric entity, the most progressive in the current movement to reduce CO2 emissions, will be located in France and will house part of the engineering and factories, including the Cléon engine site (Seine-Maritime), while the other entity , based abroad, could enter into one or more external partnerships, according to the sources.
To cushion the financial impact of Russia, the French automaker's second-largest market to date, Renault has also asked internally for an extra effort on costs, the sources added, but without so much effort. to go as far as to stop current projects.
The group, which first unveiled its 100% electric entity project in February, plans to host a "capital market day" for investors in the fall.
Several media outlets reported this week that management had told financial analysts that all options were on the table regarding the planned spin-off, including an IPO of the electrical portion.
On Wednesday, Renault shares had lost more than 14% of their value this year, after falling about 27% in 2021.
The project of the two entities aims to improve the visibility of the group in an electric race dominated by Tesla, whose positioning as a "pure player" still appeals to investors.
However, the working groups on the split, recalling the split already announced by Ford, still have many questions to answer, especially social questions related to the positioning of the teams and sites within the two future entities, and the implications of the project. for the structure and current organization of the alliance with Nissan and Mitsubishi.
"The project will be a topic of discussion with the unions very soon, probably before the summer holidays," said another source.
(Gilles Guillaume, edited by Bertrand Boucey)