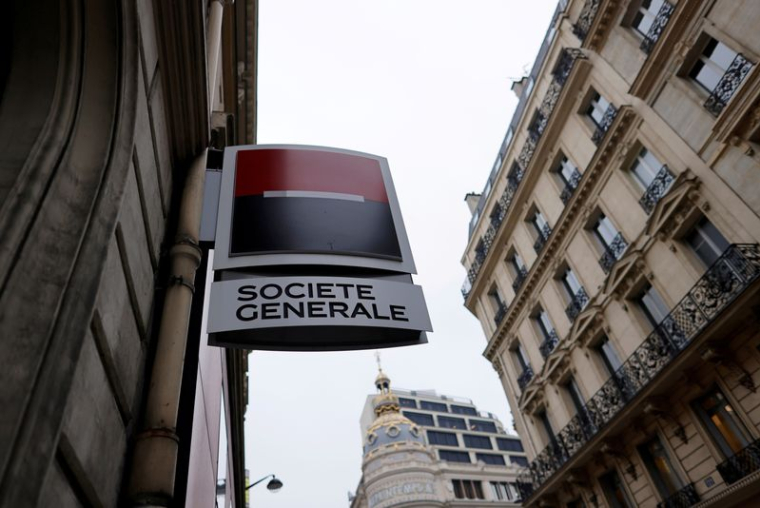 SOCGEN: PROFITS MORE IN FIRST QUARTER BUT UKRANEAN-RELATED PROVISIONS INCREASE
by Matthieu Protard
PARIS (Reuters) – Societe Generale on Thursday released better-than-expected quarterly results but increased its provisions for receivables to cover the potential impact of the war in Ukraine on its customers.
The third listed French bank announced an increase in its net income of 3.4% over the first three months of the year to 842 million euros, for a net banking income of 7.281 billion, an increase of 16.6% thanks to the dynamics of its retail banking and market activities.
It now expects the cost of risk, reflecting bad debt provisions, to be 30 to 35 basis points this year, or EUR 1.7 to 1.9 billion, compared to previously forecasting levels below 30 basis points. .
These additional costs are in addition to impairments already announced, including related to the sale of its Russian subsidiary Rosbank to Interros Capital, a group associated with Russian oligarch Vladimir Potanin, which will result in exceptional charges of approximately EUR 3.1 billion.
SocGen chief executive Frederic Oudea said he expects the sale to be completed within weeks, adding that Australian and Canadian sanctions against Vladimir Potanin should not complicate the process.
"The 'closing' should take place in the coming weeks," he said.
CONTINUED GROWTH OF MARKET ACTIVITIES
The good performance of market activities limited the impact of the conflict between Russia and Ukraine during the first months of the year: income from equity markets rose by almost 20% in January-March to more than a billion euros, and that from interest rates , credit and currency division posted a growth of 21.7%.
BNP Paribas, the group's main rival in France, reported a 60.9% increase in its equity trading income at the start of the week and a 47.9% increase in its income from interest rate and currency activities and commodities.
Jefferies analysts praised SocGen's results as "strong," noting that all divisions exceeded estimates.
At the end of the morning, the Societe Generale share rose 2.09% to EUR 23.50 on the stock exchange, while the CAC 40 rose 1.73% and the European Stoxx index of banks rose 1.25%.
However, the exit from Russia led to a fall in the core capital ratio (CET1), a key indicator of balance sheet strength, to 12.9% at the end of March.
"Capital has fallen slightly," Jefferies says.
SocGen announced its exit from Russia last month with the sale of Rosbank to Interros Capital.
Vladimir Potanin, who notably controls mining giant Norilsk Nickel, was sanctioned by Canada as part of retaliatory measures taken by Western countries against Russian officials after the invasion of Ukraine.
The charges of 3.1 billion euros related to SocGen's Russian activities include an impairment of approximately two billion euros on the carrying amount of the divested Rosbank business.
(Report Matthieu Protard, French version Jean-Michel Bélot and Marc Angrand, edited by Sophie Louet)