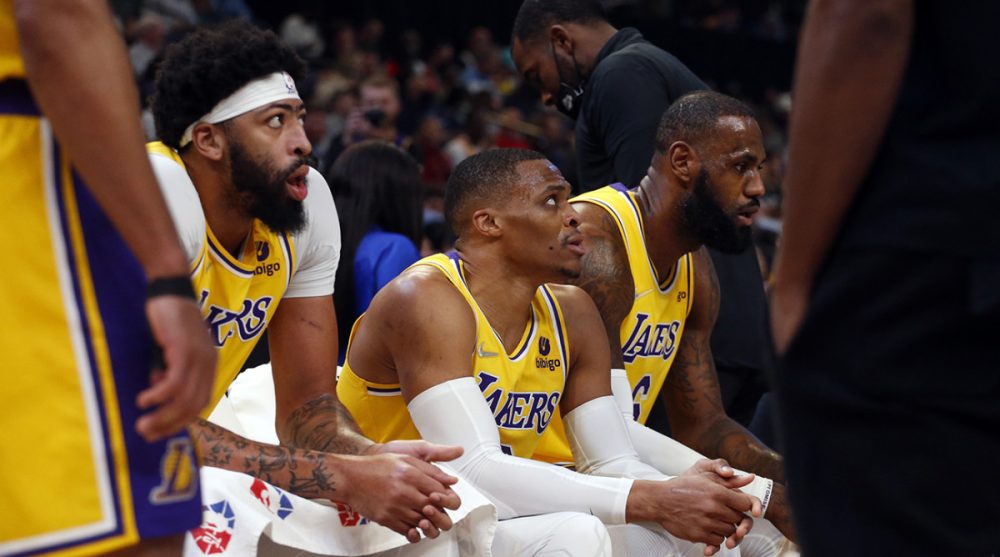 † Collecting stars is not enough. Russell Westbrook sometimes seems lost or has no time next to his teammates and generally the Californians' attack is messy. Thanks to LeBron James, Anthony Davis or Carmelo Anthony, the Lakers often find a solution to score, especially against weak or average teams, but in defense it skates and doesn't pass against the big teams.
The sores pile up and Frank Vogel can never count on a whole group to work and develop chemistry. LeBron James and Anthony Davis have to do too much to save the Lakers and that's what they'll pay for at the end of the season when things get serious.
The California franchise is too strong not to qualify for the playoffs and has too many limits to hope to win four series in a row against stronger, more cohesive formations, who know each other better. It's a fiasco for this group, who have less than years ahead of them to win a ring… †
This is what we wrote as the worst case scenario at the beginning of the season about Lakers and even in this particularly pessimistic scenario (but not so far from reality in the end), we couldn't imagine them experiencing such a bitter failure. Because yes: the "Purple & Gold" are now purely and simply eliminated Casting errors
Some gossip won't stop claiming they're hardly surprised by this premature exit from the track, but can we really (and objectively) think that a team led by LeBron James, Anthony Davis and Russell Westbrook doesn't even make the Top 8 of these Western conference less on the agenda than in the past? Or that she simply can't climb into the Top 10, to participate in this "play-in" so frowned upon by LeBronbut who would have allowed him to limit the damage this time?
The answers to these questions are the same: no.
Because for a franchise that was crowned champions a year and a half ago, failing to qualify for the play-offs is a matter of professional misconduct and especially confirms the fiasco of the Westbrook – James – Davis trio. The three All-Stars, supposedly off-field henchmen, have never managed to find the right formula on the floor, in their 21 games played together (11 wins – 10 losses).
But here, too, the observation is quite simple: California leaders, starting with Rob Pelinka, were mistaken across the board, preferring to put on a high-sounding "Big Three" rather than focus on the shortcomings of the workforce. /21. If possible with dutiful players, ready to sacrifice themselves for the good of the collective.
And LeBron James, who certainly managed to achieve some individual goals, also has his share of responsibility behind the scenes. Especially in the arrival of Russell Westbrook (instead of DeMar DeRozan?†
It's hard to blame the bling-bling franchise of them all for choosing rhinestones and glitter, though, with this All-Stars pileup: eight in all, a record in a headcount.
Problem, and what a problem: They have generally never been used to turning into "role players" during their respective careers. Like Carmelo Anthony, drawn to LeBron James (again) to play the attacking jokers and who often found himself in a defensive libero role. It was clearly very complicated…
Eventually, as players like Malik Monk, Stanley Johnson, Austin Reaves and Wenyel Gabriel gradually took on real roles in the rotation, Frank Vogel's men probably offered their best basketball. Frequently reported pieces that prove the basic plan was shaky.
A group that can't play together
DeMar DeRozan, Kyle Lowry, Buddy Hield, Alex Caruso, Kentavious Caldwell-Pope… No need to rewrite it: history is over and Lakers fans will be able to think forever about what their team could have been without Russell Westbrook, if properly built around LeBron James and Anthony Davis.
But, as "AD" regretted most recently they will be able to rethink what the "Purple & Gold" season could have been without all their injuries.
As previously noted, the Westbrook-James-Davis trio has only been able to line up together 21 times. However, this excuse should not justify everything, as certain franchises such as the Clippers, the Bulls, the Nuggets or the Heat, even the Warriors, the Bucks or the Grizzlies, not to mention the Pelicans, have not been spared on the physical front either. . And, unlike the Angelenosthey all managed to keep their heads above water.
Collectively and physically, Los Angeles was simply among many teams, with its group both aging (more than 30 years old on average) and thoroughly revamped (only three players were already present in 2020/21). Between the glitches of LeBron James and Anthony Davis, it was also necessary to add those – more or less serious – of Trevor Ariza, Kendrick Nunn, Carmelo Anthony, Talen Horton-Tucker, Dwight Howard or Austin Reaves.
Difficult, under these conditions, to find good chemistry, for this team that has more than five starts (39, out of 79 possible) than success (31)! And this lack of chemistry was especially observed during the second part of the campaign.
Still 6th in the Western Conference on January 8 (21 wins – 19 losses), the Lakers gradually dropped in the standings as other teams found their cruising speed and gained momentum. To set a sad record of 10-29 since the same date of January 8, 2022, 28th in the league, just ahead of the Pacers (10-30) and the Rockets (9-31), in full "refueling" operation" .
The horizon is getting dark…
Now the big question everyone is asking is: what of the future of LeBron James, Anthony Davis, Russell Westbrook and company? While Frank Vogel's has almost already been captured as he heads for a departure after three years on the local bank, that of the three California stars is questioning.
On the one hand, even if he still has a one-year contract, LeBron James' name is beginning to circulate on the side of the Cavaliers, whose rebuilding is slowly but surely maturing. be seen statusHowever, the transfer of the "King" seems unrealistic, especially since at the age of 37 it still offers sacred guarantees at the sporting level. On the other hand, in the summer of 2023, everything leads us to believe that he will lead to the team that will draft his sonBronnie.
On the other hand, it seems unthinkable to see Russell Westbrook continue the adventure in the City of Angels. More in the scent of sanctity among fans of the franchise with 17 NBA titles, the 2017 MVP nevertheless says: hope for a second chance in this city he loves so much. But before he sees him leave, he will first have to manage to lose his $47 million salary, which he will claim if he decides to activate his "player option" for fiscal year 2022/23. So far from easy. Especially at 33…
Finally, Anthony Davis, on a guaranteed contract until 2024 and called to become Los Angeles' "franchise player" after LeBron James' retirement, shouldn't be moving. At 29, he continues to have one of the best interiors in the league, on either side of the floor, when fit. The problem, and it is a big problem, is that he comes all too infrequently, because of his physical frailty. All the paradox of this player, imbued with talent but with fragile bones.
Around this "Big Three" that bears only the name, we should logically find the disappointing Talen Horton-Tucker, the long-term injured Kendrick Nunn (who risks activating his "player option") as well as the alluring Austin Reaves and probably Stanley Johnson (he has a "team option").
Then it will be necessary to start all over again, without any draft choice and almost without the slightest financial leeway. A real headache in perspective for the leaders of the "Purple & Gold"…
shots
bounces
players
GM
Minimum
shots
3 points
LF
Out
secure
early
pd
bp
int
CT
side
Points
lebron james
56
37.2
52.4
35.9
75.6
1.1
7.1
8.2
6.2
3.5
1.3
1.1
2.2
30.3
Anthony Davis
40
35.1
53.2
18.6
71.3
2.6
7.2
9.8
3.0
2.0
1.2
2.2
2.4
23.2
Russell Westbrook
78
34.3
44.4
29.8
66.7
1.4
6.0
7.4
7.1
3.8
1.0
0.3
3.0
18.5
Carmelo Anthony
69
26.0
44.1
37.5
83.0
0.9
3.3
4.2
1.0
0.9
0.7
0.8
2.4
13.3
Malik Monk
73
27.8
47.2
39.1
77.9
0.5
2.8
3.3
2.8
1.5
0.8
0.4
1.8
13.3
Languages ​​Horton-tucker
57
25.0
41.6
27.2
78.1
0.6
2.6
3.2
2.6
1.4
0.9
0.5
2.5
9.3
isaiah thomas
4
25.2
30.8
22.7
72.7
0.2
1.8
2.0
1.5
1.2
0.0
0.5
3.0
9.2
Sekou Doumbouya
2
8.2
62.5
50.0
75.0
1.0
2.0
3.0
0.0
1.0
1.5
1.0
0.5
7.0
Austin Reaves
58
22.7
46.2
30.8
82.6
0.7
2.3
2.9
1.6
0.6
0.4
0.3
1.5
6.7
Avery Bradley
62
22.7
42.3
39.0
88.9
0.5
1.7
2.2
0.8
0.6
0.9
0.1
1.9
6.4
Wayne Ellington
40
18.5
40.8
39.3
80.0
0.2
1.4
1.7
0.7
0.4
0.6
0.1
1.0
6.3
Stanley Johnson
45
21.8
46.6
32.6
75.0
0.7
2.3
3.0
1.7
0.6
0.9
0.3
2.3
6.1
Dwight Howard
58
15.9
60.9
58.3
65.7
1.9
3.9
5.8
0.5
0.8
0.6
0.6
1.9
5.9
Dj Augustine
18
17.3
50.0
48.3
100.0
0.2
1.1
1.3
1.4
0.5
0.3
0.1
0.9
5.7
Wenyen Gabriel
16
14.3
47.3
23.8
59.3
1.7
2.2
3.9
0.5
0.6
0.2
0.3
2.8
5.7
Deandre Jordan
32
12.8
67.4
0.0
46.2
1.6
3.8
5.4
0.4
0.7
0.3
0.8
1.6
4.1
Trevor Ariza
24
19.3
33.3
27.0
55.6
0.4
3.0
3.4
1.1
0.5
0.5
0.2
0.8
4.0
Kent Bazemore
38
14.0
32.8
36.7
76.5
0.3
1.4
1.8
0.9
0.6
0.7
0.2
1.8
3.5
Rajon Rondo
18
16.1
32.4
26.7
50.0
0.6
2.2
2.7
3.7
1.9
0.7
0.3
1.4
3.1
mason jones
2
4.4
25.0
0.0
50.0
0.5
0.5
1.0
0.0
0.5
0.5
0.0
0.5
2.5
jemerrio jones
2
7.4
66.7
0.0
0.0
1.0
0.5
1.5
0.0
0.0
0.5
0.0
1.0
2.0
Darren Collison
3
12.4
28.6
0.0
0.0
0.0
1.3
1.3
0.7
0.3
0.3
0.0
1.7
1.3
Chaundee Brown
2
10.3
14.3
0.0
0.0
0.0
1.0
1.0
0.0
0.5
0.0
0.0
0.0
1.0
Jay Huff
4
5.1
0.0
0.0
0.0
0.2
0.8
1.0
0.2
0.2
0.2
0.2
0.2
0.0