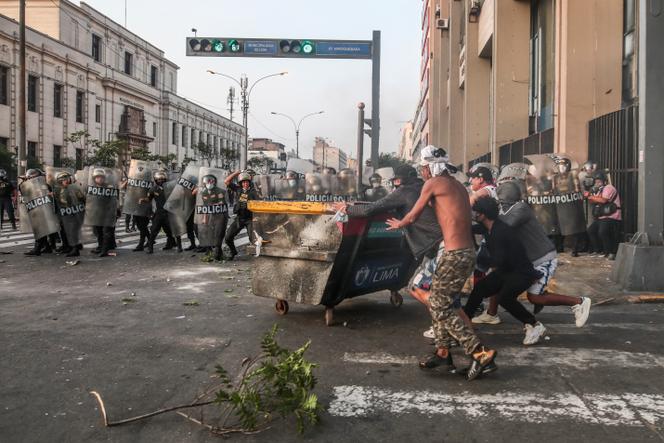 "General elections now", headlined at his "one", Wednesday 6 April, la Republican, a major center-left national daily, along with other newspaper articles calling for the immediate resignation of Pedro Castillo. Narrowly elected in June 2021 with the slogan No mas pobres and un pais rico [« plus de pauvres dans un pays riche »], the left-wing president is cornered as more and more voices urge him to correct his policies or leave. Many also denounce Congress, the only chamber of parliament whose level of disapproval is reaching record highs.
For 12 days, the government faces the wrath of various sectors as truck drivers and farmers go on strike against rising prices for fuels, fertilizers and certain foodstuffs, while inflation has been exacerbated in recent weeks by the war in Ukraine. In a dozen regions, notably in the central Andes – which overwhelmingly voted for Castillo in the last vote – roads have been blocked for several days and tolls have been set on fire. On Thursday, April 7, the government declared a state of emergency on roads in the country to lift the blockades.
Faced with this social movement – the first that Mr Castillo saw at national level –, the president reacted erratically, first choosing to ignore the protesters before discrediting them, claiming that their… "leaders" goods "paid" to manifest. He then tried to calm things down by announcing social measures with a reduction in VAT on the sale of basic foodstuffs and a 10% increase in the minimum wage, which will reach the equivalent of 254 euros from 1er can. But given the non-immediate and limited nature of these measures – most workers in Peru work on the black market – the strikers have decided to continue the movement. Police repression and violence on the sidelines of the demonstrations left at least six dead and dozens injured.
"Not only has the government betrayed its promises of change, but now it is replicating the methods of the right: despise those who mobilize †suppress, criminalize and restrict rights", claimed on Twitter his former progressive left-wing ally, Veronika Mendoza, whose group distanced itself from the government in February.
On Monday, April 4, faced with rumors of looting in the capital, Mr Castillo had declared a twenty-four-hour curfew in Lima and the neighboring city of Callao. A highly unpopular measure that took hundreds of people onto the streets and prompted the president to withdraw the decree before it ended. Protests turned violent and resulted in vandalism and arrests.
You still have 54.34% of this article to read. The following is for subscribers only.