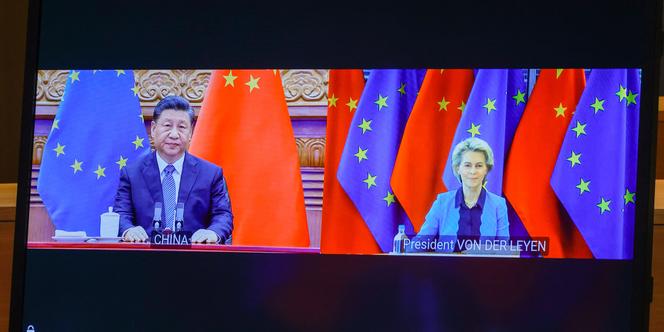 They wanted to make sure that China would not help Russia and let it bypass the heavy sanctions against Russia. The leaders of the European institutions met on Friday 1 for a virtual summit with Chinese Prime Minister Li Keqiang and then-President Xi Jinping.er Did they receive the least guarantee from their interlocutors in April? The few rare questions that journalists were allowed to ask them at the end of this discussion were enough to indicate that the answer was negative.
Charles Michel, President of the European Council, and Ursula von der Leyen, President of the Commission, gave evasive answers, in the absence of a clear commitment from Beijing's leaders. "The Prime Minister and the President reiterated their willingness to work for peace and security, stated the President of the Council. We hope that our arguments have been heard and that China takes into account the question of its image and the importance of its relations with Europe. †
No tangible evidence
In Brussels, the meeting ended with a short press release from European leaders only. They underlined the special responsibility of China, "global player", a member of the UN Security Council and a force with close relations with Moscow. They expressed their "vigilance" in terms of financial, military aid or through the purchase of hydrocarbons that Beijing could bring to Russia, but at this stage their entourage claims to have no tangible evidence of this.
To convince their interlocutors that it is in their interest to maintain a peaceful world and balanced relations with the EU, other arguments were needed. Economically, as a reminder, China exports about $462 billion worth of goods to Europe each year, or about 15% of its total exports, while only 2.4% goes to Russia. Clearly, evidence of effective support for Moscow could come at a cost to the Chinese economy. And, adds a Brussels diplomat, for President Xi, who will have to be re-elected in October.
By contrast, on Wednesday, Sergei Lavrov, the head of Russian diplomacy, had received confirmation in Beijing of a "boundless" friendship between the two countries.
this 23and The EU-China summit, convened before the outbreak of the war in Ukraine, clearly did not draw a line: the relationship between Europe and its "systemic rival and strategic competitor" – the formula dates from 2019 – has just been a bit more complicated since the outbreak of the war. According to Mr Michel, Brussels and Beijing can agree that the Ukrainian conflict "a threat to global security and economy" but he got no real response to his invitation to China to involve it in the search for a solution. By contrast, Sergei Lavrov, the head of Russian diplomacy, had received confirmation of a friendship in Beijing on Wednesday "limitless" between the two countries.
You have 26.87% of this article left to read. The following is for subscribers only.