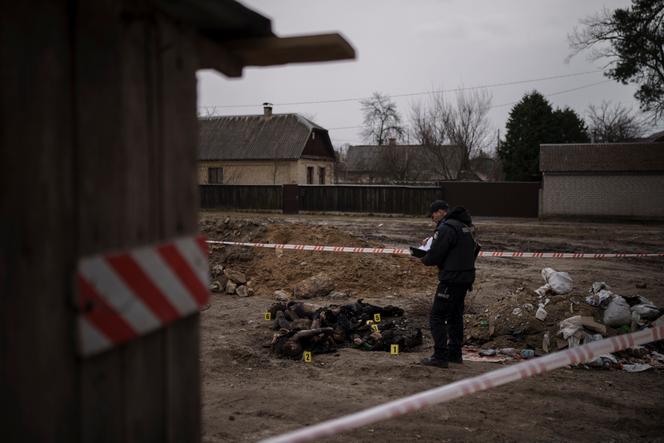 A small delegation of French investigators, including forensic doctors, should soon be hard at work in the Kiev region. After the discovery of civilians executed by soldiers, particularly in Boutcha, France volunteered to contribute to the investigation of the atrocities during the Russian occupation.
On Tuesday, April 5, Emmanuel Macron and Volodymyr Zelensky addressed the topic during a remote interview. The Ukrainian president had just announced the… "war crimes" committed by the Russian troops, acts discovered during their hasty withdrawal from the environs of the capital. Mr Macron underlined: "France's availability to support international justice and contribute to the investigation and documentation of violence against civilians to ensure that Russia is held accountable."
Unlike Joe Biden, who called Vladimir Putin a "war criminal"the French head of state does not endorse this qualification, but, according to his environment, places himself on a "operational" † "There's the fact of saying things, that's good, but in the end it's a judicial process and we're putting ourselves on that ground, by action, by the operational, to really help Ukraine." In order to establish this cooperation as quickly as possible, contacts have taken place between the Ukrainian Prosecutor General, Iryna Venediktova, and the French Ministry of Justice.
The "quasi-universal jurisdiction" of the prosecutor's office
This aid should be distinguished, although the steps may be complementary, from the support of Paris to the investigations launched by the International Criminal Court (ICC), from The Hague. Seized by 39 states parties, including the countries of the European Union, the ICC's Attorney General, Britain's Karim Khan, opened an investigation in early March into the acts committed by the Russian armed forces since the invasion began of the 'Ukraine . If Kiev has not ratified the Treaty of Rome establishing the International Criminal Court, Ukrainian authorities have recognized jurisdiction since 2014 for facts dating back to the war in Donbass.
Due to a lack of resources, the District Court of The Hague counts on the support of the States that seized it to carry out its work. So Paris would have to provide several experts, two magistrates and ten gendarmes to start with. It was also decided to prepay the French contribution to the budget of the institution created in 2002 (or 13.3 million euros), while it has to pay exceptional aid (490,000 euros). French support can also take the form of information, which is essential to advance investigations and track down those suspected of committing crimes. France has experience of this kind of cooperation with the ICC: it is the main contributor to the various investigations in Africa.
You have 30.37% of this article left to read. The following is for subscribers only.