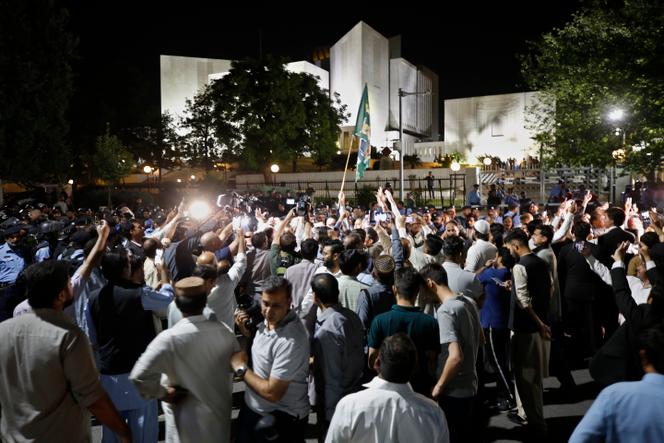 Imran Khan's maneuver to remain in power has failed. The Supreme Court dealt him a bitter setback on Thursday 7 April. The Pakistani prime minister had tried four days earlier to escape a vote of no confidence from the opposition by refusing to register it for the vote, then by dissolving the National Assembly and holding early general elections.
The five magistrates of the country's highest court unanimously ruled that the plan to avert the no-confidence motion was unconstitutional and that all subsequent decisions had no legal force.
The National Assembly was restored, as was the government. The former glory of cricket will therefore not escape the motion of censure, to be tabled on Saturday 9 April, and will undoubtedly have to leave power. He lost his majority in the House of Representatives, a victim of apostasy in his own ranks and within the coalition that brought him to the head of this country of 220 million inhabitants in 2018, endowed with the nuclear weapon. The Supreme Court decision was warmly welcomed by opposition supporters in the capital Islamabad.
The opposition, made up of the two great dynasties that have dominated Pakistani political life for years, the Sharif clan and the Butho clan, affiliated with a religious fundamentalist party, accuses him of being responsible for the major economic crisis the country is experiencing country. Debt, inflation and unemployment have significantly worsened the country's business, and Imran Khan had to rely on the International Monetary Fund. The Pakistani rupee has fallen in recent days. Shahbaz Sharif, the leader of the opposition in the National Assembly, has been named as Khan's possible successor.
At the age of 69, the prime minister attempted a dangerous and inglorious coup d'état. To justify his refusal to submit to a vote of no confidence, he accused the United States of being at the origin of an international conspiracy to overthrow him, because of their ties to China and Russia.
The promise of an "Islamic welfare state"
But Mr Khan grew tired of his supporters and lost the vital support of the army. With no real backbone, he distinguished himself in his last months with his outbursts against India, a historical enemy, and against the West, especially the United States and France. When the Muhammad cartoons were republished by Charlie Hebdo in late 2020, following the assassination of Samuel Paty, the Pakistani leader had exacerbated the anti-French climate by accusing France and its president, Emmanuel Macron, of "offending the feelings of millions of Muslims" † he had denounced "public statements based on ignorance" That "will fuel hatred and Islamophobia". Pakistan was set on fire at the request of an Islamist party demanding the boycott of French products and the departure of the French ambassador. Rather than calm the ghosts, Mr Khan had played the arsonist so as not to be overwhelmed by the Islamists.
You still have 42.42% of this article to read. The following is for subscribers only.