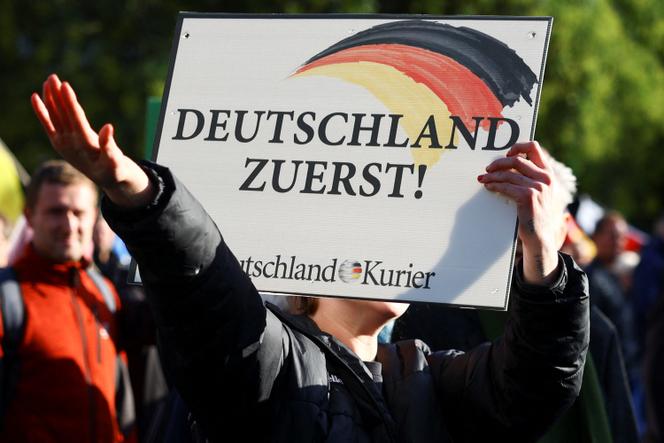 Anti-Euro when it was founded in 2013, became anti-immigration and anti-Islam thanks to the refugee crisis, in 2015-2016, then anti-masks and anti-vaccines at the height of the Covid-19 epidemic, in 2020- 2021, the far-right Alternative for Germany (AfD) party has again changed its priorities: on Saturday, October 8, it stands in the name of the "energy security" and a little "fight against inflation" that his sympathizers were on the vast lawn separating the Reichstag from the Chancellery, in the heart of Berlin.
One year after the disappointing result in the September 2021 parliamentary elections (10.3%, 2.3 points less than in 2017), the AfD planned to turn this meeting into a display of power. In total, the police counted just over 10,000 participants. Four times less natural than the August 2020 demonstration against the anti-Covid restrictions, at the end of which several hundred far-right activists had attempted to break into the Reichstag. But still twice as many as the last time the AfD called for protests against Angela Merkel's migration policies in Berlin, in May 2018.
In fact, the few party officials who spoke on Saturday were merely repeating what they had been saying for weeks, which was that Germany would be much better off moving closer to Moscow. "Let's abolish the sanctions!" »thus hammered the President of the AfD, Tino Chrupalla, assuring that: "gas prices will return to normal if we buy cheap gas from Russia again".
Attacks on the current economy minister
Speaking in this way in front of protesters, some of whom had come with Russian flags and others with signs calling for the Nord Stream 1 and 2 gas pipelines to be re-opened, the strongman of the far right applauded wholeheartedly. But it is mainly his attacks on the current Minister of Economic Affairs, the environmental activist Robert Habeck, that have brought him the most success.
"Habeck has declared an economic war on Russia. In reality it is against our own country that he is at war"Tino Chrupalla declared, before the crowd recited: "Habeck muss away! » ("Habeck must vacate"). A direct echo of Merkel Muss away! » that accentuated the AfD's demonstrations during the former chancellor's time.
Although his name was also whispered, Social Democrat Olaf Scholz was not entitled to the same outburst on Saturday. Amid the protesters, Marc Vallendar, AfD deputy in the Berlin regional parliament, made a statement: "Our chancellor is so transparent and tacky that it is not easy to mobilize against him. Habeck is much more divided. As Green, he embodies everything we fight for. »
You still have 42.12% of this article to read. The following is for subscribers only.