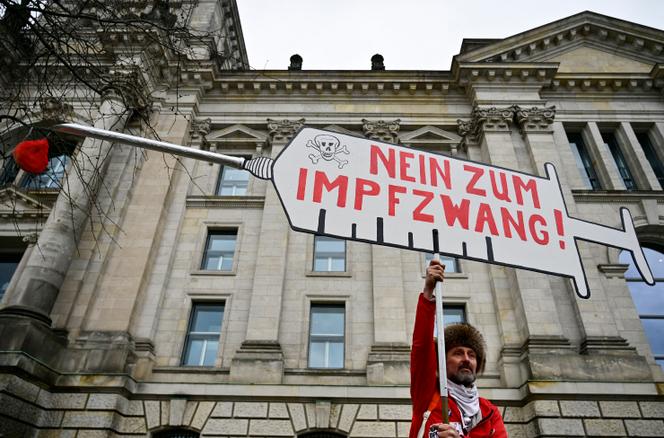 Vaccination against Covid-19 is not mandatory in Germany. That was decided by the Bundestag, which voted by a large majority on Thursday 7 April against a bill that provides for the introduction of such an obligation for people over 60. Although supported by the government, the text received only 296 votes in favour, with 378 deputies voting against and 9 abstaining. This result is a turn-off for Social Democratic Chancellor Olaf Scholz (SPD), who, in hopes of the measure being passed, even had his Foreign Minister Annalena Baerbock (Greens) return from Brussels in an emergency. . about to attend a NATO meeting on Ukraine.
Thursday's vote ends a soap opera that began on November 30, 2021. On that day, a week before taking over from Angela Merkel's head of government, Olaf Scholz said a text proposing mandatory vaccination would be examined by the Bundestag before the end of the year. the year of entry into force "early February or early March" 2022†
Before that date, the future chancellor had opposed such an obligation. To justify his turnaround, he gave the following explanation: "We have always bet that the largest number would be convinced. If we had already vaccinated 80% of the population, or even more, as is the case in other countries, the situation would be different and I would not have changed my mind. † At that time, 68% of the German population was vaccinated, putting the country in the European Union average, but far behind Portugal, Spain, Belgium, Italy or France. Today 76% of Germans have been double vaccinated, but only 59% have received a booster dose.
Voting without group discipline
However, it was clear from the start that such a measure would be difficult to pass. Within his "traffic light coalition", Olaf Scholz quickly understood that a consensus would be difficult to find, as each of the three components of his majority was divided on whether it was the SPD, the Greens, but especially the Liberal Democrats (FDP), whose some elected officials — a minority but highly combative — immediately announced that they would oppose any obligation to vaccinate.
In this politically sensitive context, and at the head of a country where the anti-vax movement is highly mobilized, Olaf Scholz opted for a cautious strategy: although the idea came from him, he did not want the government to introduce a bill. that it is the delegates who propose one or more texts themselves, before each of them votes correctly "according to his conscience"so without group discipline.
You still have 45.48% of this article to read. The following is for subscribers only.