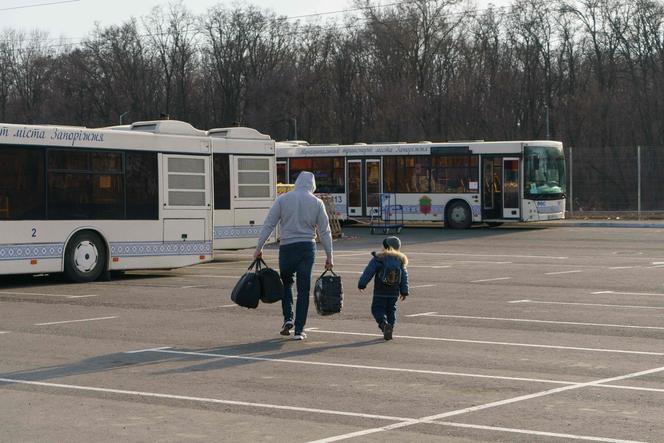 Will Russia keep its word? On Thursday, March 31, Moscow said it was launching a "humanitarian corridor" to make the inhabitants of the martyr city of Mariupol flee the city, besieged, isolated and ruthlessly bombed for over a month. According to the Russian Defense Ministry, this corridor should be open on Friday 1er April " from Mariupol to Zaporizhzhya [à 220 km au nord-ouest de l'Ukraine] from 10:00 Moscow time [9 heures, heure de Paris]†† This measure is taken as follows:"A personal request from the French President and the German Chancellor to Russian President Vladimir Putin"he added.
Ukrainian authorities have decided to send a convoy of 45 buses to the area to evacuate the population as quickly as possible. Seventeen buses have already left for Mariupol, Ukrainian Deputy Prime Minister Iryna Vereshchuk said.
The Committee of the International Red Cross (ICRC) and the Office of the United Nations High Commissioner for Refugees should be involved in the mechanism. The ICRC has tried several times to organize evacuations from Mariupol, but so far without success. "It is vital that these operations can take place. The lives of tens of thousands of people in Mariupol depend on it."the organization persisted.
Buried in caves, without water or food
More than 160,000 inhabitants are trapped in the city under appalling conditions. Those who managed to leave in their own vehicle, taking great risks, told how civilians lived in cellars, deprived of water, food and all communication, with corpses lying in the street. The European Union has denounced this blockade as a "major war crime"† Municipality accuses Moscow of evacuation "against their will" more than 20,000 inhabitants of Mariupol in Russia.
The announcement of a humanitarian lull in the fighting is all the more anticipated as it comes after several days of persistent requests from Emmanuel Macron. The head of state was launched in Brussels on Thursday 24 March a call for a mass evacuation operation†
After a few days of contacts in all directions, Macron was able to talk about it with Russian President Vladimir Putin on Tuesday — his ninth meeting with him since the start of the invasion by Russia on February 24. However, this had not led to any progress: the Kremlin head had refused to make the slightest commitment, promising his interlocutor only to get back to him after studying the matter.
You still have 46.53% of this article to read. The following is for subscribers only.