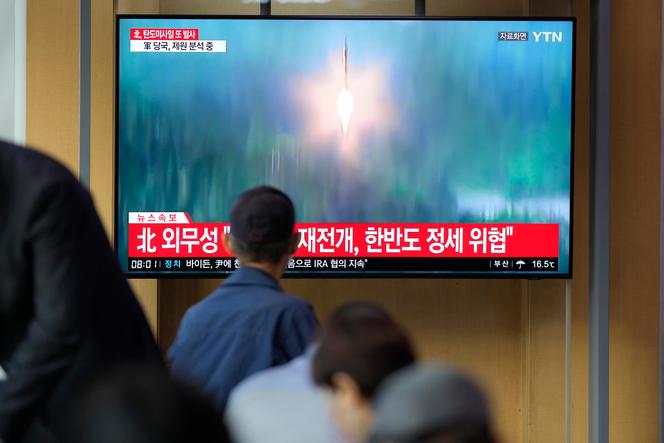 This is the seventh and eighth in less than two weeks: North Korea fired two short-range ballistic missiles on the night of Saturday 8 to Sunday 9 October, South Korea's Joint Chiefs of Staff reported, quoted by Yohnap news agency.
The South Korean military said on Sunday that it "between 01:48 AM and 01:58 AM (4:48 PM and 4:58 PM GMT) detected two short-range missiles fired from the Munchon area of ​​Kangwon Province towards the Baltic Sea"also called the Sea of ​​Japan, which " stole [sur une distance] from about 350 kilometers at an altitude of 90 kilometers". The Joint Chiefs of Staff in Seoul calls a "serious provocation".
Tokyo also confirmed the firing of the two missiles, with the Japanese coast guard saying they appeared to have landed outside Japan's exclusive economic zone. Japanese Deputy Defense Minister Toshiro Ino said Tokyo was analyzing the missiles, adding: "it could also be a submarine-launched ballistic missile (SLBM)".
Nuclear energy "irreversible"
The missile launches are part of a record year of weapons tests by North Korea, which leader Kim Jong-un has declared a nuclear power. "irreversible", ending the possibility of denuclearization talks. Pyongyang fired a medium-range ballistic missile over Japan on Tuesday, October 4, where the affected populations were to be asked to take shelter.
North Korea justified this series of tests by the "military threats" Americans and issued a new press release confirming: "follow closely the extremely worrying development of the current situation"referring to the deployment of the US aircraft carrier USS Ronald Reagan during the joint US-South Korean maneuvers in which a Japanese destroyer took part. These joint exercises between Seoul and Washington have angered Pyongyang, who sees the North Korean regime as rehearsals for an invasion.
Analysts say Pyongyang has taken advantage of the stalemate at the United Nations to conduct increasingly provocative weapons tests. In addition, Seoul and Washington have been warning for months that Pyongyang will conduct another nuclear test, likely after the Chinese Communist Party (CCP) Congress on Oct. 16.