Since the discovery of the massacre of numerous civilians in the town of Boutcha, 30 kilometers northwest of the Ukrainian capital, the Kremlin and its allies have spread a plethora of counter-narratives, often complicated, misleading or suspicious, to expel Russia from its responsibilities.
Women would die in Boutcha. have simulated
A message attributed to Ukrainian living in Lviv, Nastya Savchyshyn, went viral days after the Boutcha massacre. The young woman writes in Ukrainian alongside a photo of herself and a photo of a dead woman: "My name is Nastya Savchyshyn, I lived in Boutcha. These are two pictures of me. In times of rest I liked to travel. I was murdered and raped by [censuré] because I am Ukrainian. † This publication has since been used to prove that the Boutcha massacre was a "stage"if writes the Russian news agency Ria FANor even a " lie "according to the Telegram account of Donbass Insider, a French-language site with fiercely pro-Russian views.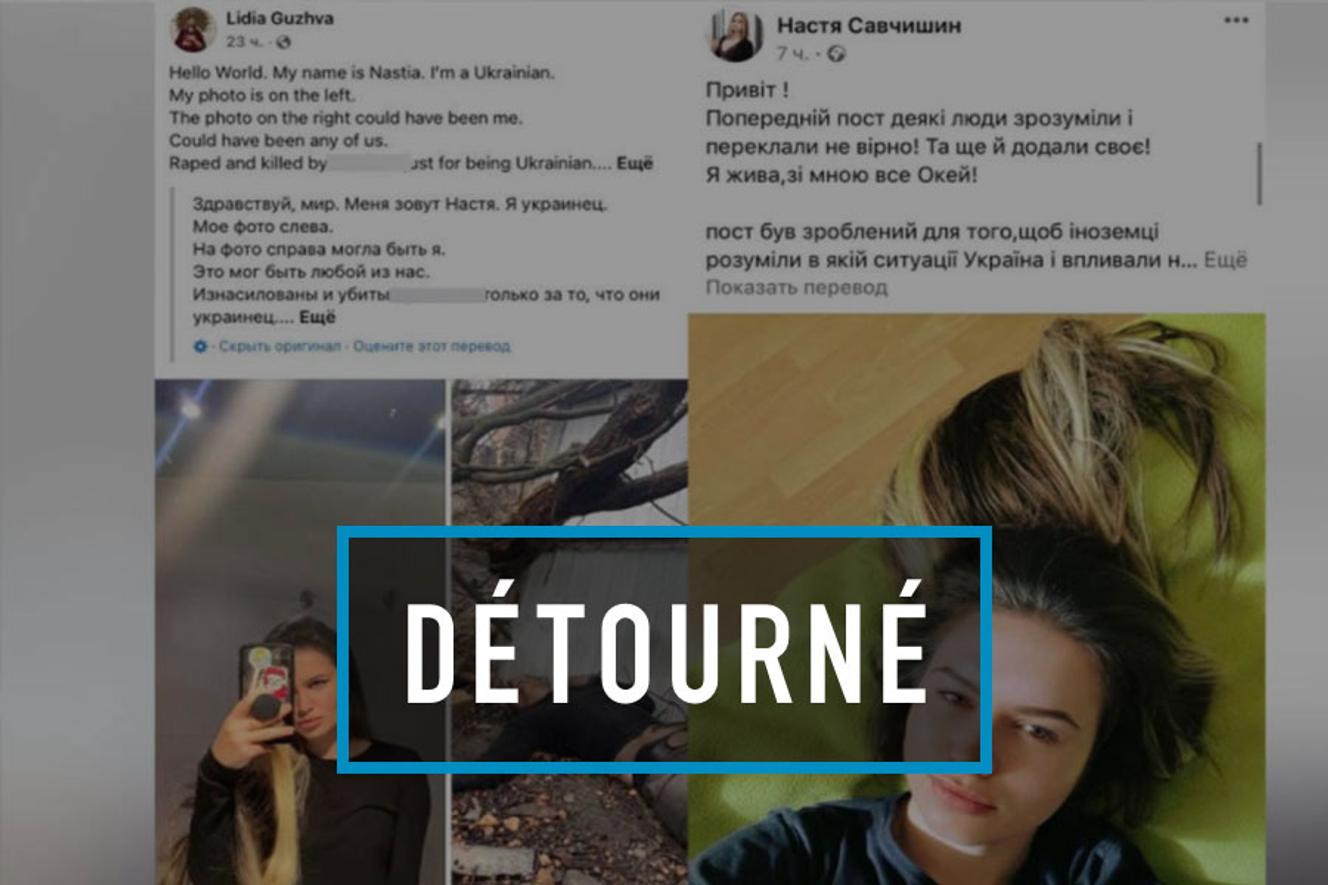 Misinterpreted Statements of Support
If Nastya Vachyshyn does exist, the interpretation of her message is incorrect. In an Instagram post dated April 7, she said also hates a "fake" and an attempt to "propaganda"† Her first photo montage, from the day before, was not intended to admit that the Boutcha massacre was a hoax in which she allegedly participated as an extra, but to show that this dead woman, "it could have been any of us"†
This same text is repeated in several similar posts that are in circulation. Associating her photo with that of a victim has become a way for young Ukrainian women to show their pain and solidarity with the dead women of Boutcha on social networks. The idea was reportedly launched on Instagram on April 4. by a Ukrainian artist named Mariia Vorobiova†
Ukrainian police reportedly confess to 'cleaning' of 'collaborators'
"It turns out that the site of the National Police [ukrainienne] announced #Boutcha's cleanup of "employees" on April 2† assures on Twitter Alexander Nevskya French internet user relaying Kremlin propaganda elements. And a day later you get to see the corpses. To accuse the Russians was amateurism, they tried their trick, they will not hesitate to do it again. † According to this report, the Boutcha massacre was perpetrated by Ukrainian security forces, not Russian soldiers.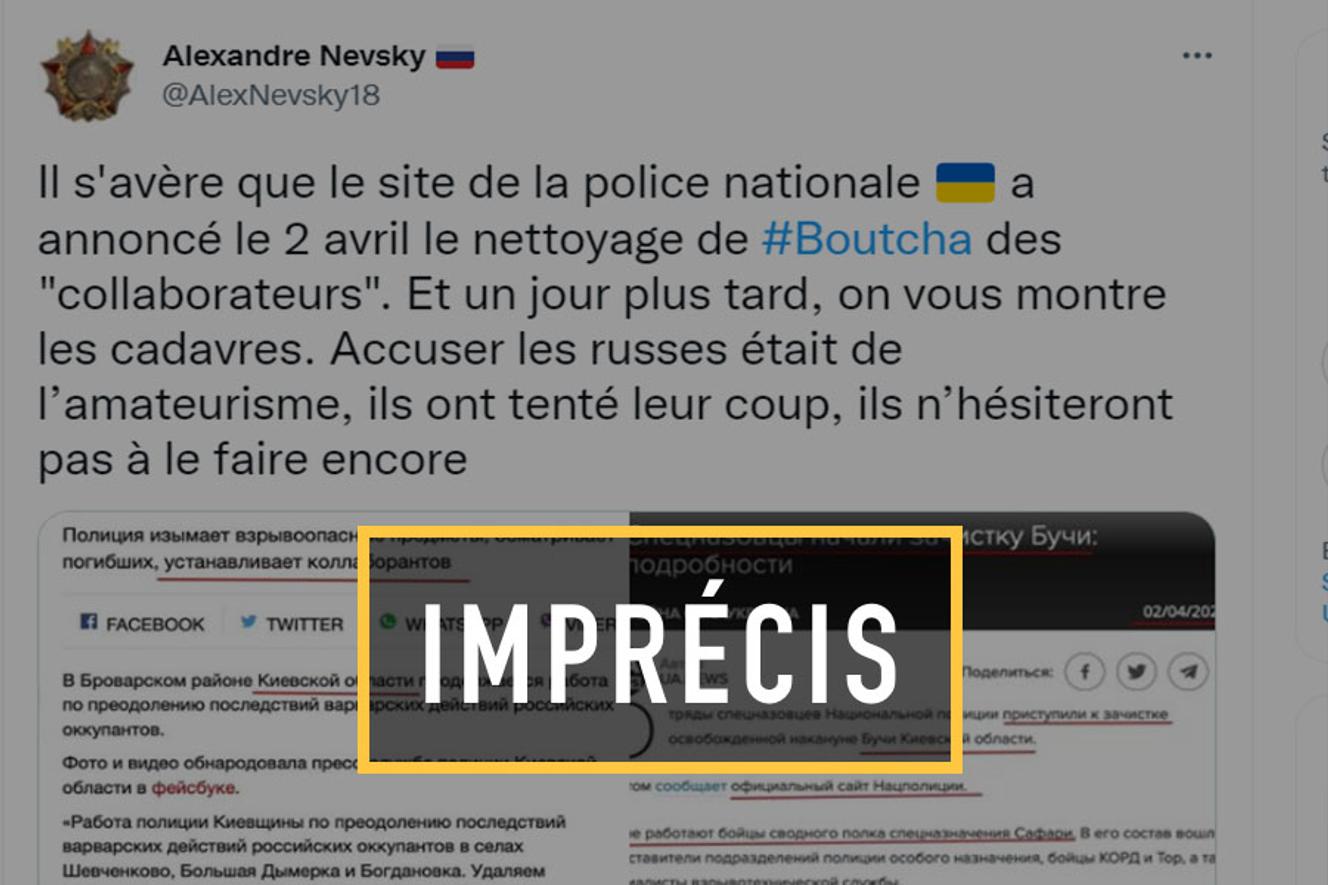 A poorly translated press release
This forgery is based on two documents written in Russian, but neither match an existing article online.
Ukrainian police communicated well during a visit to the tortured city, but April 3rd, according to the official website. By the way, this article is about: "identification of saboteurs and looters"and not eliminate.
It cannot be ruled out that abuse was committed by the Ukrainian military, but this press release, brandished by the pro-Russians, contains no element that could prove it.
Ukrainian soldiers reportedly placed the bodies themselves
Notably, a short video showing Ukrainian soldiers dragging inert bodies to the ground with cables was broadcast on Twitter and interpreted in conspiratorial spheres as be the proof of a macabre staging orchestrated by the Ukrainian troops themselves, "in full preparation for western media".
This interpretation supports the Russian argument that the bodies lying in the streets of the city were thrown away after the departure of Russian troops on 1er April, and that the Boutcha massacre cannot therefore be blamed on them.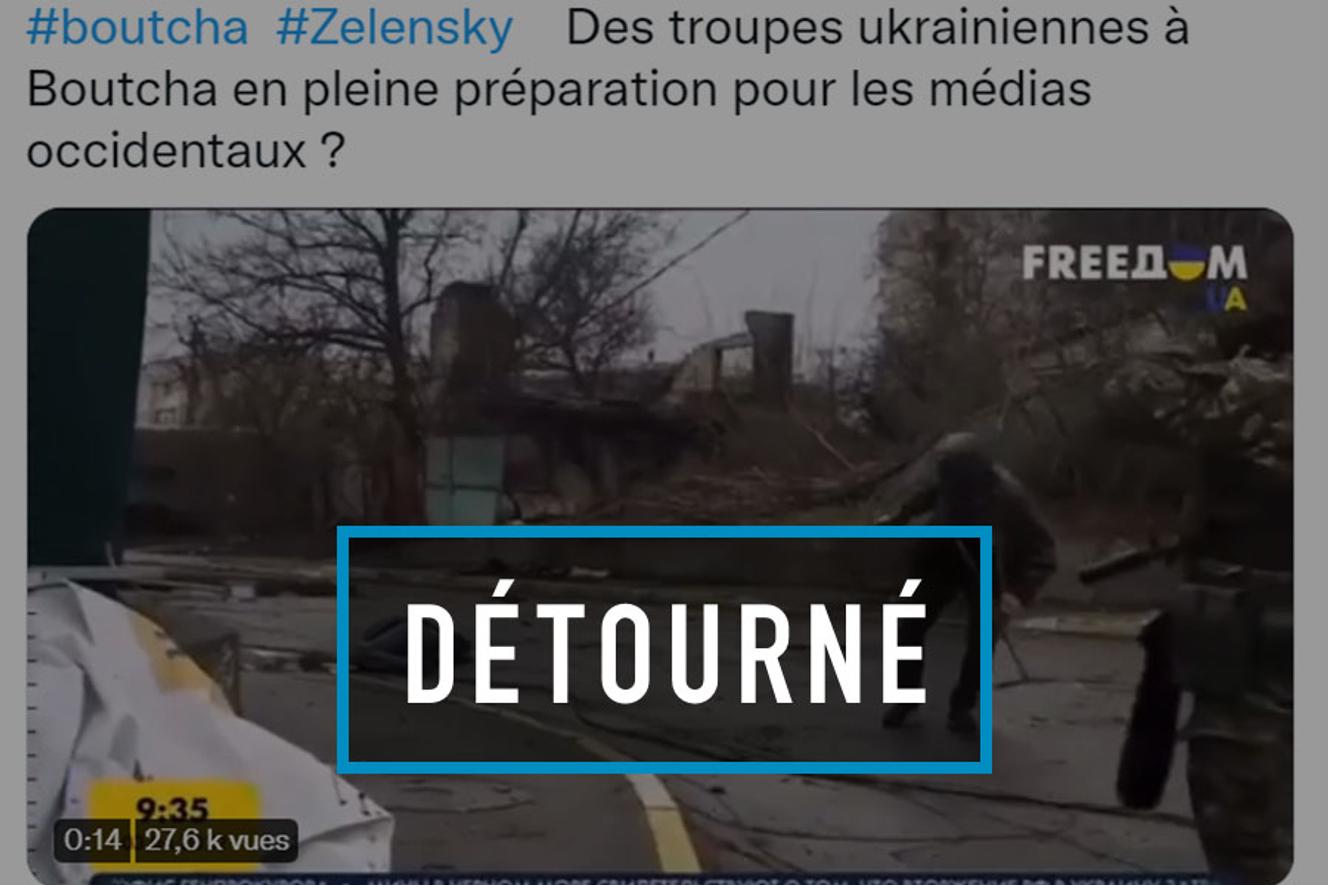 A body clearing operation
The images are actually from an Associated Press video, as noted by the Twitter account fact-checking Fake researchApril 6 AP journalists filmed them on April 2 in Boutcha and they have been ever since archived and contextualized on the news agency's website.
The 2-minute, 12-second video shows residents of Boutcha witnessing abuse, inert bodies and Ukrainian soldiers on the city's streets. Twice on the images we see that the latter pulls corpses to the ground with cables and changes position. AP then explains: "The soldiers pull on the body with a cable, for fear that it will get caught"† It is therefore a demining operation and not a staging.
Ukrainians reportedly used dummies to pretend they were dead
Several accounts, most of them pro-Russian, relay a video published April 6 on Twitter and on Telegram, showing two men wielding a mannequin and covering it with duct tape. Users interpret these images as new "proof" that the Boutcha massacre is only a… "stage"†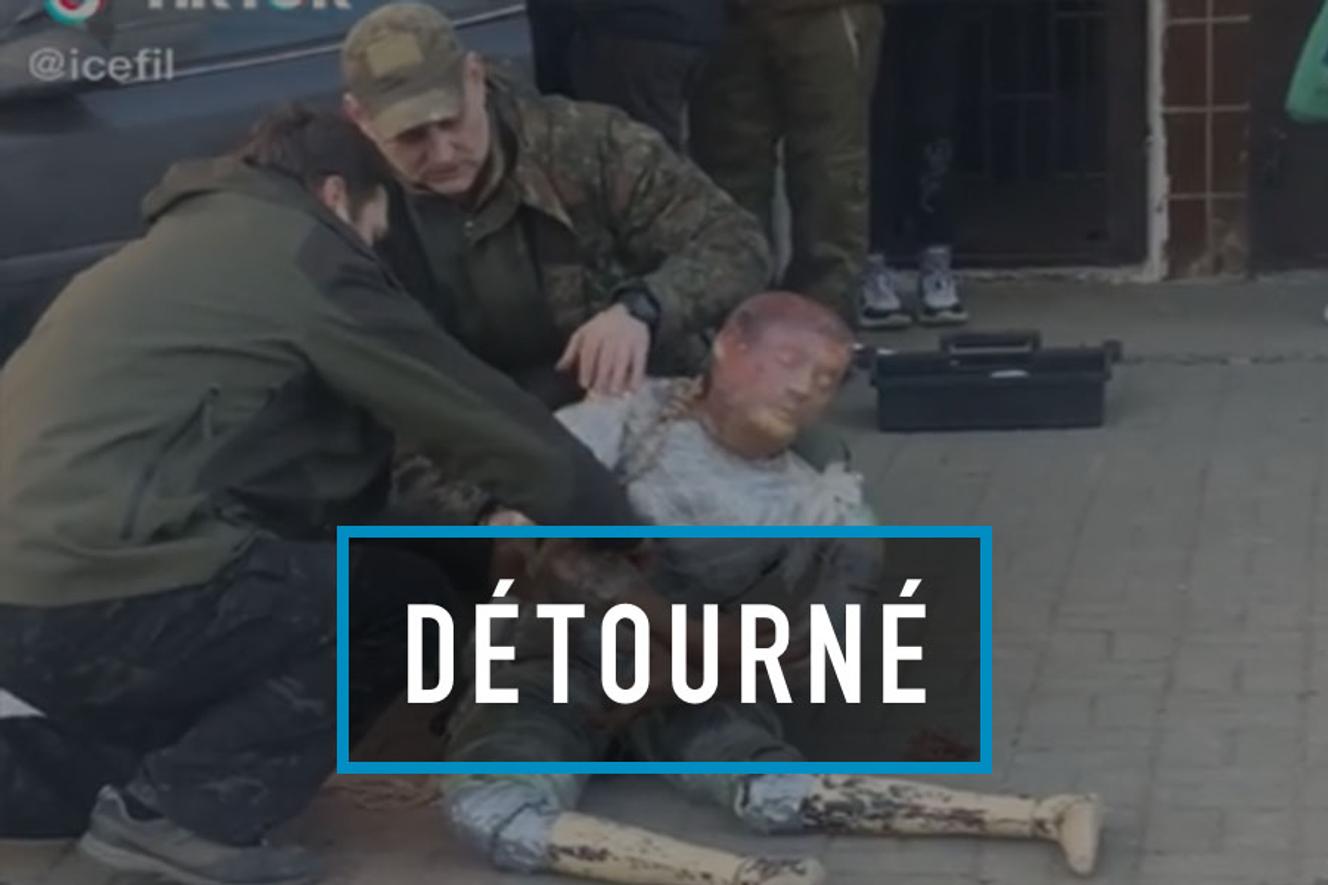 A video of shooting a movie
These images are from the TikTok account of a 29-year-old Russian blogger and comedian named Philippe Fedorchuk. The original video, published on March 29 and viewed over a million times, comes with a caption in Russian. Literally translated it means: "Preparing a Mannequin for a Fall in a Movie"†
Secure instagram and TikTok, Philippe Fedorchuk regularly posts photos and videos at filming locations in St. Petersburg, Russia. For example, on April 5, he posted a selfie together with the Russian actor Aleksey Kravchenko on the set of the series "Russian Special Forces". These images have no connection whatsoever with the war in Ukraine.
The massacre was orchestrated by Ukrainian and British secret services, according to a Ukrainian MP
Another video is circulating explaining that the tragedy of Boutcha would be "prepared" by the Ukrainian Secret Service (SBU) led by the British Secret Service (MI6). This report from "Ukrainian Member of Parliament Ilya Kiva" was notably taken over by Le Media in 4-4-2, a pro-Kremlin conspiracy site. On Twitter, the Russian embassy in France posted: a video make the same allegation.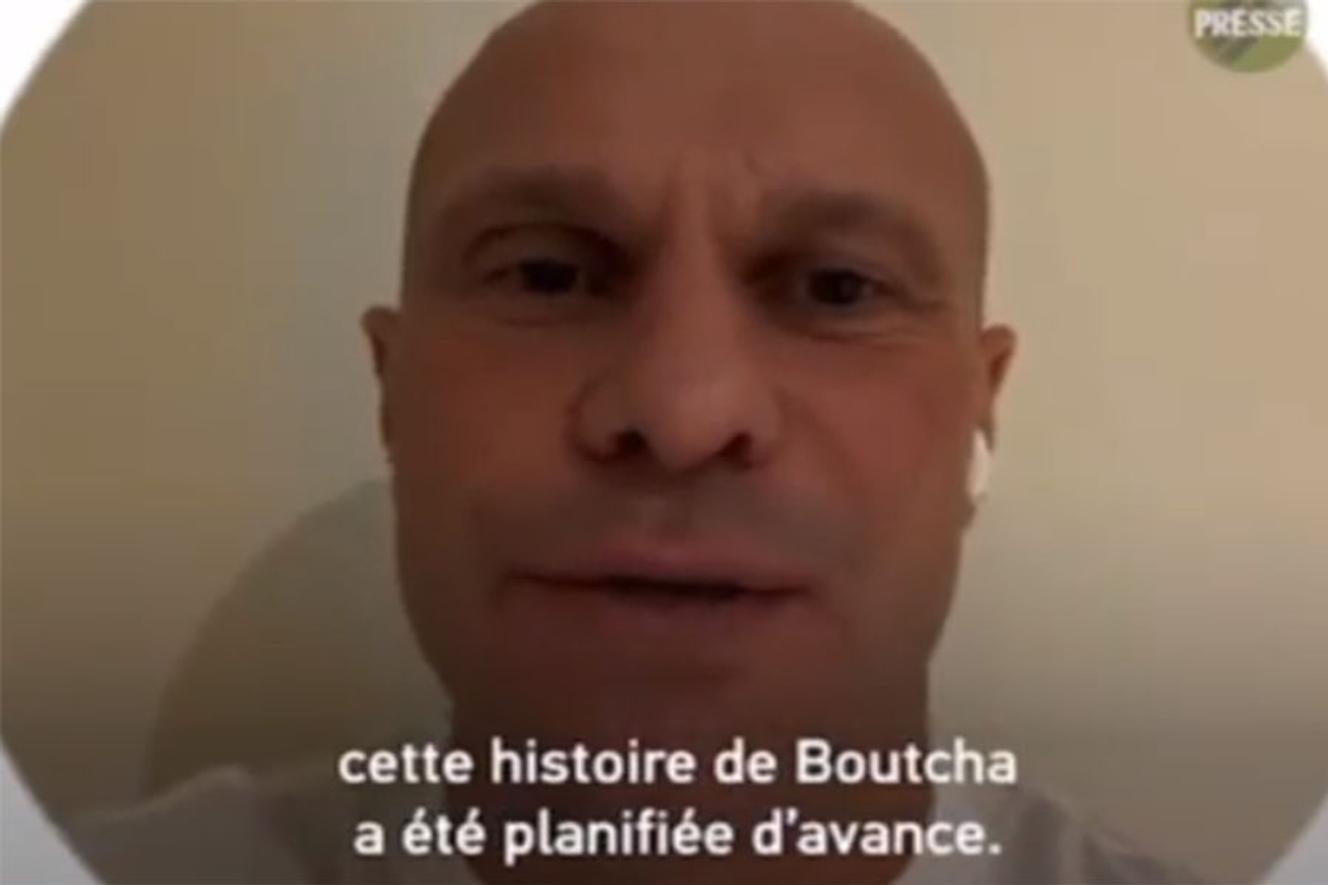 A claim without evidence, contradicted by the testimonials
This very strong accusation is not based on any evidence to date. Since the city of Boucha was in the hands of Russian troops from March 7 to 31, it seems difficult to explain how the Ukrainian secret services were able to act in such a way that the bodies were found on March 1.er April, city liberation day. Moreover, According to analyzes of satellite images published by the New York TimesSeveral corpses had been on the street for three weeks. Executions of civilians by Russian soldiers are also confirmed and verified by various testimonials from residents.
The character of Ilya Kiva is also a source of disputed objectivity. A member of the pro-Russian opposition party Platform-For Life, this former MP and presidential candidate to be prosecuted in Ukraine since March 6 for high treason. He is accused by Attorney General Iryna Venediktova of participating in the Kremlin's war propaganda.