With nearly seven months left of the World Cup in Qatar, concerns are growing among the French team's supporter groups. In question, the very vague organization of the event in a country that favors the richest.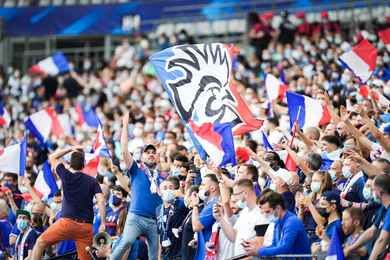 Few French fans in Qatar?
This World Cup is illegible. Strong words from Anne Costes, who fears the worst just over 7 months after the World Cup in Qatar. Vice-President of the Irresistibles Franais, the French national team's most famous supporters group, this round-ball fanatic isn't sure about heading to the Golf next winter.
Poor housing conditions
Why ? First, because the housing conditions will be very difficult. You must have your match tickets to be accommodated or you will not be able to book. So you have to take match tickets without knowing if you have accommodation. However, having accommodation is a prerequisite for entering Qatar. Knowing that tickets are non-refundable. So if you want to avoid making a round trip France-Qatar on the day of the match – which is not certainly possible – you have to take a non-refundable ticket without knowing if you will have accommodation. us to enter the territory she says in an interview with So Foot.
The icing on the cake: you have to book a minimum number of nights, you cannot take just one night. Which doesn't make sense as there is a lack of accommodation on site. Accommodation that will be reimbursed for 80% if canceled before April 30, but not at all after that. And then you have to see the apartments in question… They are either almost military installations, or villas or the famous cruise ships. The cheapest is a campsite of which nothing is known, with only a photo of a Quechua tent on a dune she's sorry.
A faulty organization
For the most part, the organization is totally broken. We have 48 to 72 hours from the last game to leave. What do we do if airline tickets cannot be changed? We even looked for accommodation in the surrounding countries, but in fact the flight Dubai-Doha will be very expensive. By car it is a 6 hour drive through Saudi Arabia, whose borders with Qatar are closed. During our meeting I really only brought bad news. I had to find many people. It's a shame because we are world champions and we will have very few supporters on site. sighs the head of the fan group.
For Costes, this World Cup will not be one of the most ardent supporters. To give you an idea, there were 600 in Russia, if there are 50 it will be exceptional. I say 'we', but personally I've given up. With all the controversy surrounding this World Cup, we could at least expect Qatar to be flawless in terms of organization, but not at all. in the east only for aiss people. It's not a World Cup for supporters, there won't be anyone. We will end up with Qataris holding French flags she says, before deciding. Qatar is not fit to host a big tournament with millions of people. Until November next year.
Will the World Cup in Qatar be a success? Don't hesitate to comment and discuss in the area Add a comment †