News hardware This accessory keeps you celibate for life
After the "Gaming Bed", released in early 2020, the Japanese manufacturer Bauhutte, specializing in chairs and desks, is back with a new version of its module for some geeks, this time equipped with a folding electric bed. Look no further, you won't find anything crazier today!
Never leave your room, every self-respecting gamer's dream
Who has never dreamed of spending the entire weekend playing, eating and sleeping without ever leaving their bedroom?
All the great players will tell you, sometimes on the condition of anonymity so as not to be seen by their friends or their family, sometimes it's a dream to wake up and start playing without having to face the outside world.
If some have tinkered with a homemade installation in their room with a comfortable chair, a desk, three screens and a mattress casually placed in a corner to rest between game sessions, professionals such as the Japanese Bauhutte offer comparable complete sets. . in their catalog.
Live your best no-life with the Gaming Bed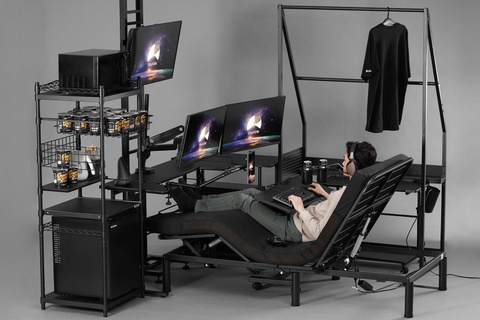 The first time we heard of this Japanese manufacturer was in 2020 and the release of the famous "Gaming Bed" that had taken over the world with unusual ideas.
The concept is ultimately quite simple and not so stupid. After choosing your desk (straight, L-shaped or U-shaped), add all the necessary and essential modules such as shelves, telescopic arms, storage cabinets, a wardrobe for pajamas, a small extra sideboard, a refrigerator to quench your thirst , a bedside table and therefore a real bed to regain your strength.
In the V1, the bed was pretty basic, even if you could add accessories like rompers or even a heated seat for long winter evenings. The only infamous problem, to play in a "sitting" position you had to use some sort of large ottoman to secure your back.
With this new model, the Electric Gaming Bed BGB-100FA, Bauhutte corrects this problem by offering a new bed, this time motorized. The backrest can be tilted up to 60°, while the legs can be raised up to 35°. Enough to always be in the best position depending on the game and the time. On the other hand, still no toilets on the program…
For the bed alone, count 57,000 yen (about €420) and for a complete setup worthy of the name, about €1,000. If the products are available both in the official store and on Amazon Japan, there is currently nothing about Europe. But with a little imagination, you too can create your own geek lineup and assume celibacy!
Find the best gaming agencies at Cdiscount
---
This page contains affiliate links to some of the products that JV has selected for you. Every purchase you make by clicking on one of these links will not cost you more, but the e-merchant pays us a commission.
More information user manual†

Through LudolinkJournalist jeuxvideo.com
P.M