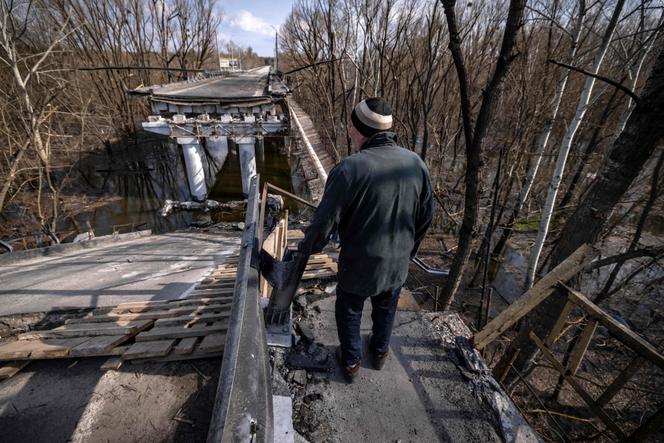 For several days now, the Russian army has been carrying out a classic maneuver in which the Ukrainian army corps defends the Donbass in a pincer movement. Since Monday, April 4, a double offensive from the garrison town of Izium has been moving southeast towards the city of Sloviansk and southwest towards the town of Barvinkove. In its Tuesday morning news bulletin, the Ukrainian General Staff emphasized that the Russians are rapidly rebuilding a destroyed bridge at Izium to facilitate the supply of troops to the south. He also admits that the Russian army advanced 7 kilometers and took the village of Brajkivka.
The lower jaw of the forceps rises from the city of Yasinouvata, which has been in the self-proclaimed Donetsk People's Republic for eight years, to Kostiantynivka, a medium-sized town. The results of this offensive remain uncertain for the time being. To succeed, it must break through the Ukrainian defenses that have been consolidated for several years. A second Russian offensive headed north from Velyka Novosilka, southwest of Donetsk, appears to have stalled.
Before connecting and closing, the jaws of the Russian pliers still have to travel about 110 kilometers. The isolation of the Donbass troops would be disastrous for Ukraine. If the operation succeeds, Moscow would gain control of the administrative regions of Donetsk and Luhansk. This is now the main military target displayed by the Russian Defense Ministry. For now, the staff in Moscow has not released any information about the attempt to encircle Ukrainian troops.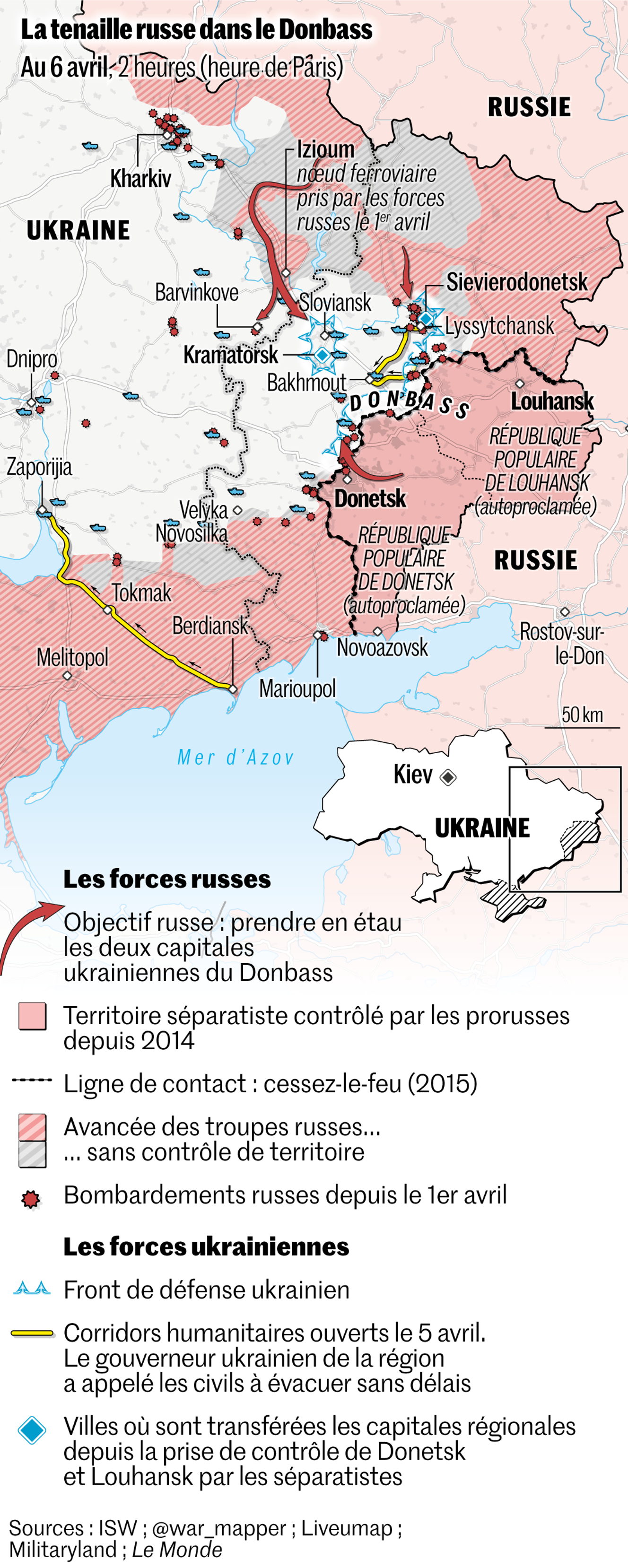 Difficult advance of the Russians to Mariupol
Further east, in the Luhansk region, the Russian army is advancing towards the Sievierodonetsk-Lyssytchansk agglomeration. A little further north, a bombing raid on the city of Roubizhne Tuesday morning hit a tank containing nitric acid, a highly toxic substance. Local authorities have urged residents to stay at home. No victims have been identified so far.
In addition, all residents of the region are invited to evacuate the battlefield. Ukrainian railways said it had evacuated 15,000 people from the cities of Pokrovsk, Kramatorsk, Sloviansk and Lozova.
In the extreme south of the Donbass, Russian troops continue their advance with difficulty into the city of Mariupol, besieged at the end of February. The detailed map published Tuesday evening by Russian blogger Rybar on Telegram shows gains limited to a few blocks over the past two days. The fighting in this industrial and port city continues to mobilize large Russian troops, which therefore cannot be redeployed before the complete fall of Mariupol.
You have 56.93% of this article left to read. The following is for subscribers only.