Game news Two Point Campus: we're going back to school!
Maybe it's way behind you or maybe you're still full of it, we're talking about the education system, of course! Given the way the administrations are run, we can afford to say "even I could do better". Criticism is easy, the art is delicate, so you know what? Here's Two Point Campus, the spiritual successor to Two Point Hospital, slated for both PC and Switch, Playstation 4 and 5, and Xbox One and Series. You become the creator and director of a university campus. But exactly, the Two point Studio studio, did they make a college version of Two Point Hospital, or is it a real revival?
We were able to play for a few hours on two-point campus and consult with the developers. The chance to discover a game where you are responsible for a university: you will have to arrange the premises, recruit the staff, choose the training you will give and even take care of the decoration† Your main goal is to make money, let's not hide it, but since the students' notes will make you more or less money, you can't do one without the other. So you will have to manage a succession of campuses in the Two Point County region, the same as in Two Point Hospital, with the same radio and the same major brands that you will recognize, such as the famous cheap Gubbins.
Revival for the series
The most significant change from Two Point Campus, and something rare in the world of management gaming, is the quiet moments. Often management games inspire us to rush to get things done to meet urgent needs that can't wait. "'The game is divided into two phases: before the school year itself starts, you have the summer vacation, unlimited time that you can end whenever you want, where you can choose the training that will be given the following year. Here you can make all the arrangements your students need. New classrooms or expand your dorm to accommodate more students. It's nice to be able to quietly arrange your rooms, arrange them the way you want, without being rushed by messages piling up and without having to take a break to put your ideas away. This then allows you to more accurately manage your students' lives throughout the year.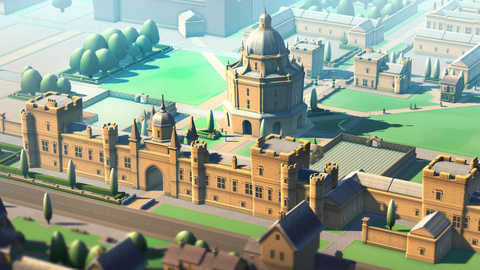 Also note that the ergonomics are also very good. Tools like copying and pasting rooms, or the ability to save room plans for reuse on another campus, all make the building process that much more enjoyable.
A lifelike simulation
You will be able to use this quiet time, so much to tell! Because you expected to do classrooms and you're right, but it's not just that. These classrooms are already crazy, with students coming in clusters to use whatever equipment you put at their disposal. The rooms teem with life with every lesson session. There will be other more classic rooms, such as lecture halls or libraries, but you will also have to take charge of your students' lives. They naturally need to wash, eat and have a social life. We're not talking about the usual management game where you have customers who come in droves and whose needs have to be met until you've emptied their wallets. Your students are there for the whole year, and even all the years that their course lasts, if they pass their exams. And right, if you take care of them badly, they get bad grades. Suffice it to say that even a simpleton who just wants to go out with his girlfriend will have to figure out how to get his grades fast enough, for example with private lessons. Other elements will brighten up the college year: your students will join different clubs and you can organize parties or competitions so that they don't get bored.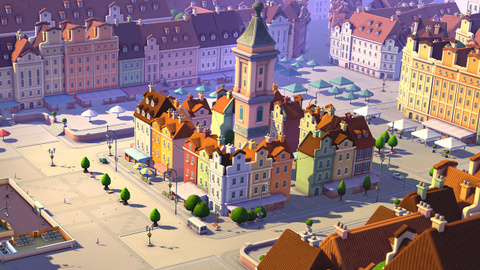 A game made to last
Because the fear of repetition is never far away in a management game, and it was an obvious pitfall of Two Point Hospital, which was excellent nonetheless. We were only able to play the first two maps of Two Point Campus, which were distinguished by their graphic style, as well as several university courses for students. Comme chaquecursus a ses propres salles et ses propres requis, et qu'ils demandent de plus en plus de choses au fur et à mesure que les étudiants fit en deuxième ou troisième année ducursus, cela fait pas mal de choses à anticiper pour chaque branch. That's how we saw special studentslike goths, and the interfaces list a dozen of these students who might be interested in a more specific education, such as VIP students for instance. A sandbox mode is also mentioned, but the promises of the developers are mainly based on the multiple possibilities that the game will offer.
Each student is very different, with social relationships that will develop between them. There will be heart problems and great friendships. Coupled with an education that requires different things, for example a library or a competition to test students, all this should allow to renew the experience in the long term. And to reassure us a little, the developers also promise maps with enough different purposes. We'll have to see what it is in the long run, but looking at what's been done on Two Point Hospital's DLCs, we can be hopeful. Plus, we're pretty sure Two Point Campus will likely have DLC, even though nothing has been mentioned on the subject yet.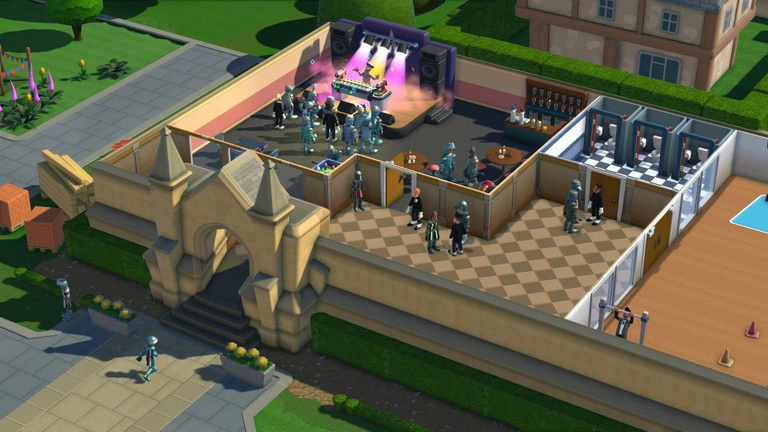 Even more customization
We talked about a game in two stages, with planning on the one hand and an academic year on the other. Its stated goal is to allow you to take full advantage of your campus while the students are there. This is a chance to take advantage of the character animations, all of which have been redone and keep this very funny cartoon side specific to the series.
But the other element that stands out in this presentation is personalization. And that's where the developers let go. They found that players enjoyed customizing their hospitals in the previous game, which they had to work out at that level later. At Two Point Campus, the floor, walls and numerous decorative elements are already accessible to you. In fact, it's the outside that opens its doors for you. The hospital has locked you in predefined walls and don't let your hand go outside these walls. Here you can dress up your outside and put a lot of elements in it. Campus buildings themselves are now infinitely customizable or buildable, as long as you have the money for them. It is up to you whether you prefer to enlarge a wing of your main house or build several small outbuildings for specific purposes. The tools are working really well right now and we can't wait to push the game to its limits.
Two Point Campus responds to our fears in the best possible way, and it is therefore without sadness that we had to let go of the mouse. In the long run, of course, he'll have to prove his good intentions, especially on the replay that was so off-putting in their previous game. But as things stand, Two point Campus looks like a game that deserves a nice degree. Just to be sure, we have to wait until May 17, 2022!
Through Yuriky00Write jeuxvideo.com
P.M