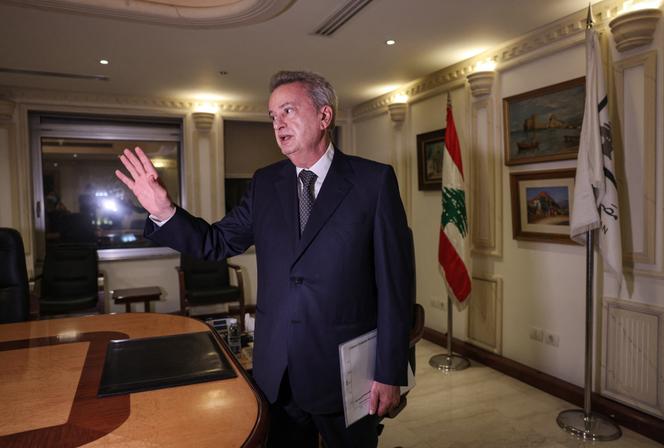 Eurojust, the European body for coordinating the fight against organized crime, on Monday, March 28, announced the seizure of about €120 million in Lebanese assets in several European countries, including France. This major asset freeze follows a money laundering investigation targeting five individuals, including the governor of the Central Bank of Lebanon, Riad Salamé.
These five suspects are suspected of: "Government money in Lebanon misappropriated for sums of more than $330 million" [300 millions d'euros]and 5 million euros respectively between 2002 and 2021", the European Judicial Cooperation Agency (Eurojust) said in a statement on Monday, March 28. Sources familiar with the case told Agence France-Presse that these five people were Riad Salamé and four members of his family or entourage.
On July 2, 2021, the French Financial Prosecutor's Office (PNF) opened a judicial inquiry into the rich heritage in Europe of the Lebanese official, against whom the charges of money laundering in an organized gang and criminal association weigh.
"Beautiful attacks"
Target of a series of judicial investigations, both in Lebanon and abroad, Riad Salamé is also the subject of new charges related to a "illegal enrichment" issued by a judge in Beirutsaid a judicial source on March 21.
PNF praised on Twitter "scale attacks" in the context of a judicial inquiry he had opened against heads of "Organized money laundering, association of criminals and concealment of crimes committed in particular in France and Lebanon"† For its part, Eurojust, which coordinated the operation, did not provide any information on the identity of the suspects and insisted that the latter "deemed innocent until proven innocent"†
In France, authorities seized two real estate complexes in Paris with a total value of €16 million on Friday, March 25, Eurojust reported. These are two apartments located in the 16and district of Paris, according to a source familiar with the case. Several bank accounts were also seized in France (€2.2 million) and Monaco (€46 million), as well as a building in Brussels worth €7 million, Eurojust said.
German judicial authorities have seized three properties (one in Hamburg, two in Munich). Shares in a Düsseldorf-based real estate company were also secured. In addition to the properties, which are currently worth around €28 million, other assets worth around €7 million have been seized across Germany, Eurojust said. In Luxembourg, about 11 million euros have been seized from various bank accounts, according to the agency.
"scapegoat"
The legal proceedings against Mr Salamé are based on the complaints lodged in Paris in April by the Swiss Accountability Now Foundation on the one hand and the NGO Sherpa and the "Collective of victims of fraudulent and criminal practices in Lebanon"made up of savers robbed in the crisis that has hit the country since 2019.
While Lebanon is experiencing an unprecedented economic crisis, this relative of the Hariri family is being shouted out from the street, who suspect him, like other officials in the country, of transferring large sums of money to the foreigner during the October 2019 uprising. He defended opposes it in the media, believing that he is the… "scapegoat" of the crisis and claimed to have increased the assets of $23 million (19.5 million euros) that he had in 1993 when he took office as head of the central bank.
"We will use all appropriate legal remedies"replied Monday Mand Pierre-Olivier Sur, lawyer for Mr Salamé in France.