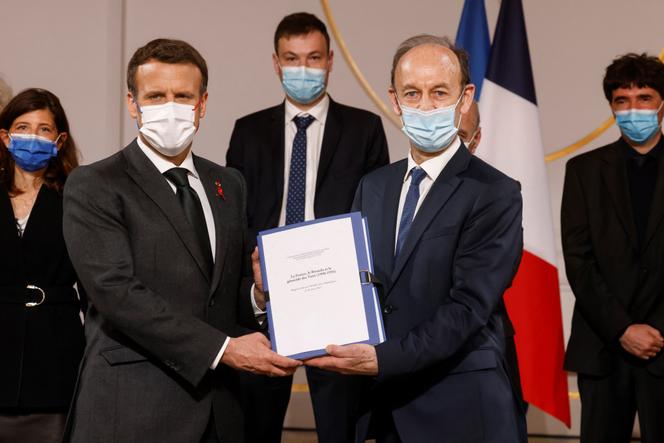 April 7 is now the official date in France for the commemoration of the Tutsi genocide. Twenty-eight years after the tragedy, meetings are planned in the Parc de Choisy, in the 13and district of Paris, where there is a "garden of remembrance" in honor of the victims of the last genocide of the 20th centuryand century, but also in Lyon and Bordeaux. "Respect for the victims, solidarity with the survivors, tweeted Antoine Anfré, French ambassador to the Rwandaappointed in the summer of 2021. The end of the denial of responsibility, thanks to the Duclert report and the President of the Republic, is also a way to pay their respects. †
A year ago, on March 26, 2021, a committee of a dozen historians gathered around Vincent Duclert presented Emmanuel Macron with a 1,200-page report on France's role in Rwanda from 1990 to 1994, fueled by unprecedented access to state archives. "I want the genocide of the Tutsis to take its full place in the collective memory," the president had indicated in the mission letter sent to the Duclert Commission two years earlier.
Based on nearly 8,000 documents (handwritten notes, diplomatic telegrams, analyzes by advisers, summaries of counsel, etc.), the report concludes "a series of heavy and overwhelming responsibilities" of Paris in the genocide of the Tutsi, which killed between 800,000 and 1 million in the spring of 1994.
Through the pages, the Duclert report reveals a political, military and diplomatic bankruptcy at the top of the French state. If the synthesis is overwhelming for François Mitterrand and his specific staff, however, the complicity in genocide is not confirmed by historians, who claim no legal expertise on this concept. "The Rwandan crisis ended in disaster for Rwanda, in defeat for France, the authors conclude. Is France therefore complicit in the genocide of the Tutsis? If by this we mean a desire to join the genocide enterprise, nothing in the archives consulted proves it. †
A reference document for the courts
Available for free upon release – and in English as of April 7 – on the Vie-publique.fr . websitethe report was downloaded about 32,000 times in one year. "The work of the commission made it possible to accept France's proximity and involvement in the genocide of the Tutsis, says Vincent Duclert. It was done without arousing heated controversy and looking through history, even if it is very painful. I think there is a desire in society today to refer to this pursuit of truth. †
You have 60.11% of this article left to read. The following is for subscribers only.