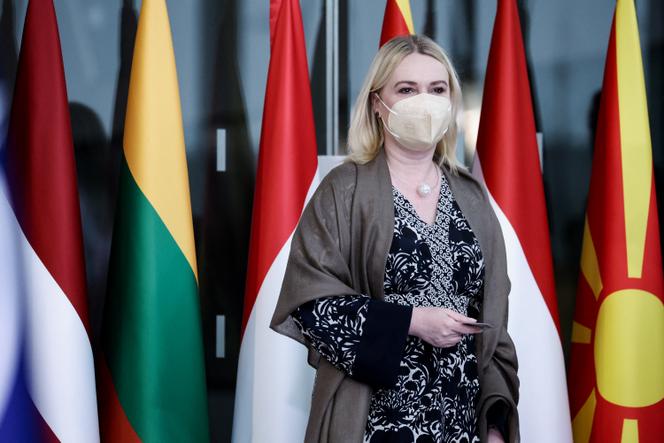 It is rare to hear criticism from the ultra-conservative Polish government of Hungarian nationalist Prime Minister Viktor Orban. But since Russia invaded Ukraine, nothing goes right in the binomial formed by the two countries of Central Europe, members of the European Union (EU). Mostly allies in their virulent attacks on "Brussels"† they openly divide the Russian president, Vladimir Putin, to such an extent that the Hungarian position even undermines the unity of the Visegrad group, which since 1991 has brought together Poland, Hungary, the Czech Republic and Slovakia.
A meeting of the defense ministers of these four countries, due to take place in Budapest on Wednesday, March 30, had to be canceled at the last minute after several participants announced that they refused to go there. Czech Defense Minister Jana Cernochova, a member of Prime Minister Petr Fiala's conservative ODS party, was the first to announce that she would boycott the meeting. "A real shame that cheap Russian oil is more important to Hungarian politicians than Ukrainian blood"† This was followed by the Polish Ministry of Defense Mariusz Blaszczak.
As early as March 26, Polish President Andrzej Duda said he understood "great addiction" energy from Hungary to Russia, but that"with Russian aggression in Ukraine and the death of thousands of civilians" [il avait] difficult to accept the position of Hungarian Prime Minister Viktor Orban". 'This policy will cost him dearly'he thought†
While the Polish Prime Minister, Mateusz Morawiecki,"totalitarian state" of the Russian President, Hungarian Viktor Orban, who has maintained warm relations with the Kremlin in recent years, is trying to maintain a careful balance. While supporting the joint decisions taken at European level and within NATO, he categorically refuses to supply or even allow arms to be supplied to Ukraine on its territory. He is also against any sanctions in the energy sector. In the midst of the parliamentary election campaign on April 3, the Magyar leader is even careful not to criticize Russia too directly and maintains a form of neutrality, under the guise of "to defend Hungarian interests" and want "Keep Hungary out of the conflict"†
So many elements that annoy the Polish, Czech and Slovak allies, all deep behind Ukraine. "The Fidesz [hongrois]and the PiS [le parti polonais conservateur Droit et justice] have never been on the same page when it comes to Russia, although these divisions have been crushed over the past seven years by their common struggle against Brussels. But now that there is a real existential threat, the 'elephant in the room' can no longer be ignored."explains Edit Zgut, a Hungarian political scientist at the Institute of Philosophy and Sociology of the Polish Academy of Sciences.
You have 38.95% of this article left to read. The following is for subscribers only.