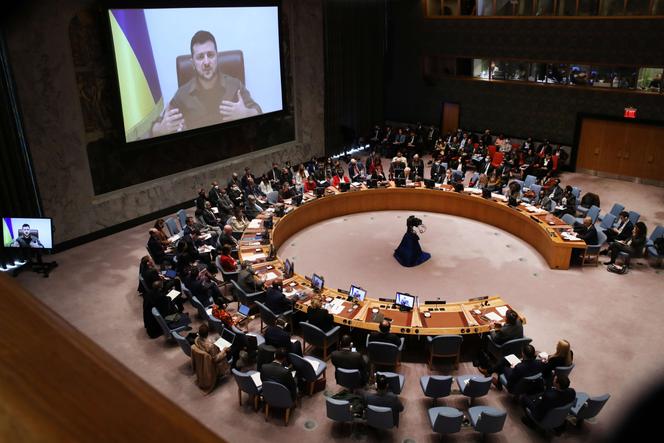 Before the United Nations Security Council, which he addressed directly for the first time since the war in Ukraine, Volodymyr Zelensky demanded on Tuesday April 5 that Russia's war crimes be recognized by the international community. The Ukrainian president also demanded that Russia no longer be able to use its veto power on issues related to an aggression it originated. Without it, he suggested, the UN's existence would no longer be relevant.
Via videoconference, the gloomy sky, the Ukrainian president immediately got to the heart of the matter during a solemn speech broadcast in the room of the institution, in New York. Based on the discovery of numerous corpses in Boutcha, near Kiev, over the weekend, he describes the fate reserved for civilians in this small town, tortured, shot in the back of the head, thrown into wells, torn to pieces by grenades in their apartments or crushed by tanks in their cars.
"They cut limbs, throats, tongues. Women are gang raped in front of their children, Volodymyr Zelensky said. Boutcha is just one of many examples – the world has yet to discover the terrible truth. †
It is essential for the Ukrainian leader to establish the responsibility of Russia as soon as possible, in the context of an international independent investigation, so that the patrons and the performers "immediately tried for war crimes" and that in 1945 a Nuremberg-type trial is organized against the twenty-four most important leaders of Nazi Germany. Videos of abused, butchered and charred bodies have been broadcast.
The Russian ambassador, Vassili Nebenzia, protested this presentation and confirmed that under Russian occupation, "no one from Boutcha had undergone violent acts"† The diplomat took over the Kremlin line hammered out a few days ago: these images would be a… "handling" on the part of Kiev, extortion and looting, the result of actions committed by "Ukrainian extremists".
Russian "filtration camps"
A skirmish ensued, when the US representative spoke of: "filtration camps" in Russia, where allegedly they were taken by force "Tens of thousands of Ukrainians"including children. "Reports indicate that Russian federal security agents are confiscating passports and ID cards, cell phones and segregating families. detailed Linda Thomas-Greenfield. I need not say what these so-called "filtration camps" remind us of. It's chill. We can't ignore it. "We were able to evacuate 602,000 people to the east, including 119,000 childrenreplied Vassili Nebenzia. These are not forced kidnappings, as Westerners claim. They are volunteers. †
You still have 53.51% of this article to read. The following is for subscribers only.